Rubber Tracks & Pads
Rubber Tracks
IBT offers one of the largest ranges of Rubber Tracks and Pads in New Zealand.
Rubber Tracks using continuous type steel cords, compared to overlapping type – the steel cords at a single joint, provide up to 40% more durability. AVT (Anti Vibration Track) type provides less fatigue to the operator and provides excellent driving comfort. Tracks for mini diggers, skid steer, agricultural and anything else that uses them. Rubber pads are made using a high technology natural rubber compound, containing an average 65% natural rubber, provides longer lifespan and driving comfort. IBT offers Chain-on type, Bolt-on type & Clip-on type rubber pads and more!.
Call the Team on 0800 111 942 or 03 344 1136 today for a quick quote! OR contact us today here.
Rubber Tracks & Pads
All the specs you need to know about rubber tracks and pads in a 12-page brochure.
Get The Best Value Rubber Tracks
We stand by the quality of our tracks, so you can buy with confidence and peace-of mind. Expect high performance and higher tread wear, puncture, tear, and crack resistance.
When you choose IBT you are getting over years of expertise and experience in the rubber track industry (see our about us page here).
Time = money.
Call a Rubber Track supplier with the highest quality, most extensive range in stock now, so you can get back on track tomorrow.
Looking for the strongest, most durable and longest-lasting rubber tracks in the industry?
After a better return on investment?
Want a track that is heavier and tougher for extended track life?
Full warranties – no pro-rata warranties with us!
IBT is one of the largest dedicated Rubber Track warehouses in NZ
We have a qualified heavy machinery mechanic on hand to ensure you get the right size
Super fast delivery
Superb Prformance & Reliability
IBT's proven performance and reliability make us the number one choice for quality rubber tracks.
With years focused entirely on aftermarket tracks, we have the knowledge and insight into what makes for the most durable and dependable replacement Rubber Track on the market.
We Know Our Rubber Tracks
If you need your track or track pad by tomorrow, give us a call now.
Our qualified and highly experienced heavy machinery mechanic will ensure you get the right size, so you can get back to work without any further delays.
We're Fully Stocked!
We're pretty sure we have the largest dedicated rubber track warehouse in the South Island, Canterbury, if not the country.
We carry an extensive range of replacement tracks and pads for compact track loaders, mini excavators, skid steers, loaders and carriers.
Our fully stocked warehouse has hundreds of Rubber Tracks in stock now. Our extensive range of steer track loaders, excavator and loader rubber tracks are properly warehoused to prevent damage caused by incorrect storage or exposure to the weather. Check us out today!
Super Fast Delivery - Anywhere in New Zealand
Our brands include Bobcat, CAT, Case, Ditch Witch, Hitachi, Kubota, ASV, Polaris, Yanmar, Terex, and more.
We can assure you that not only do our replacement Rubber Tracks fit seamlessly on all these machines, we're pretty certain they will match, if not exceed, the capabilities of the originals.
Our specialist warehouse team select your order and dispatch it anywhere in New Zealand using the most reliable transport providers.
Want it tomorrow?
Local People – Local Knowledge – Local Experience
We know our rubber tracks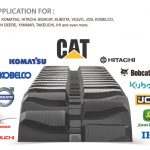 Rubber tracks, Caterpillar, Komatsu, kato, IHI, Morooka, JCB, Kobelco, Mustang, Airman, Terex, Yuchai, Volvo, Yanmar, Ditch witch, Vermeer, Daewoo, Sumitomo, Takeuchi, Bobcat, John Deere, Kubota, Hitachi, Case, Mini Undercarriage, Rollers, Idlers, Sprockets, Track groups, Rubber tracks in stock, Rubber pads, Rubber bolt on pads, Rubber clip on pads, Chain on pads, Excavator, Digger tracks, 1 ton to 10 ton, Compact excavators, ASV skid steer, Off set, Tread, Anti tracking, Premium quality, Genuine, Undercarriage components, Recoil springs, 2000 hours warranty, Large range ex stock, Cat skid steer, Bobcat skid steer, Tracked dumper, Compact track loader, ASV posi-track loaders, Horizontal drills